Avoiding Financial Hardship
Does it feel like your money isn't going as far at the moment? That's not surprising. With inflation increasing and interest rates going up on an almost daily basis, the basic costs of life are on the rise. Ouch. It can be a real squeeze, especially with all the added spending that this time of year brings. Presents, travel, holidays. It's hard to find enough dollars in the account to cover everything.
As a recent first home buyer or a new investor you will not be used to the "normal" interest rates of between 5%-8%, and you will not have needed to manage your budget around these higher interest rates. We know that grocery prices go up, and fuel prices increase – but we don't necessarily think about high interest rates impacting our weekly budget. To go from 2.5% to 3.5% is just a 1% jump and on a $100K loan for a 20-year term is an extra $106pw, on top of the other cost increases.
These increased costs and big changes in interest rates could easily see many people really struggling financially and moving into what the banks term "financial hardship" if they are not given the right advice and support.
The Banks may look stable, but they are being required to have increased capital to be able to sustain hyper inflationary periods, and times when clients may come into stress and hardship. Banks are subjected to Stress Testing by the RBNZ – basically the RBNZ runs a Bank through a scenario such as significant drops in house prices, dairy prices falling, massive increase in interest rates, and the Bank needs to prove that they will survive that! Here's a cute video that explains a bit about it.
"The results of the regular Solvency Stress Test showed that the New Zealand banking system has a stronger level of resilience than a year ago, as a result of higher capital levels, and is well placed to support the economy if conditions were to worsen," Mr Bascand of the RBNZ says.
The reality is that it is us, the clients, who actually provide the banks with that stability by paying our loans back and paying interest. So clients in hardship is a big problem for lenders. The Banks could easily find themselves in distress if they are not forward focused, and are now trying to manage this by making it more difficult for you to get additional funding. While it helps the banks to hold onto capital, it doesn't help if you are the one in financial hardship needing a bit of extra help!
From the RBNZ "..the results also indicated that a major stress event could make it difficult for banks to meet higher capital requirements in the lead up to full implementation of the new Capital Review standards in 2028. This reinforces the need for banks to continue to build capital in good times."
The stricter lending rules from the banks is having some effect in reducing the number of buyers in the market, which is in turn seems to be doing a bit towards stabilising house prices. So, it's good and bad! If you're one of the many people trying to buy a first home you may well find that there is less competition, but on the flip side if you haven't already got your finance arranged you may find it even more of a challenge to get it all sorted.
What can you do?
Be prepared! Being aware of how much extra money you will need to find if the interest rates go up by say 2% will take away some of the stress when it does happen, so go and have a play around on the mortgage calculator tool on our website. It's a quick and very easy way to get an idea of your numbers under various scenarios as you can adjust the interest rates and loan terms.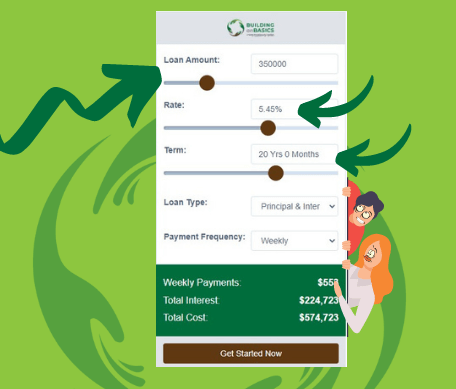 Take me to the mortgage calculator tool!
When you have worked out how much extra you think you might end up paying, have a think about where that money might come from. We are happy to go over your spending plan / budget with you if you're feeling a bit anxious about it!