First Home Grant and First Home Loans are tools made available by the Government to help people get into their first homes.
Until the budget earlier this month First Home Grants and First Home Loans were linked.  They are actually 2 different things, and do not need to be accessed together.
First Home Grant
This Grant is 'Free Money' available to First Home Buyers that meet certain criteria.  If you qualify and you purchase an existing property each purchaser who qualifies will get $5,000, and if you purchase a new build, each qualifying purchaser will receive $10,000.
The key criteria are
First home purchaser, or second chance home buyer that doesn't own any property and is in a similar position to a first home buyer

Has not received the Frist Home Grant previously

Has belonged to KiwiSaver for 3 years or more, and met the minimum contribution standards

Is under the income gap of $95K for a single person or $150K as a couple

The property being purchased is under the property value cap
In the Budget released on Thursday 19th May, the Government increased the Property Value caps to be at the lower quartile end for the related region.
The increase in property price caps is the second in 2 years, which is a good sign, but it will still be a challenge to find properties to meet these criteria.
The new caps for the First Home Grants are: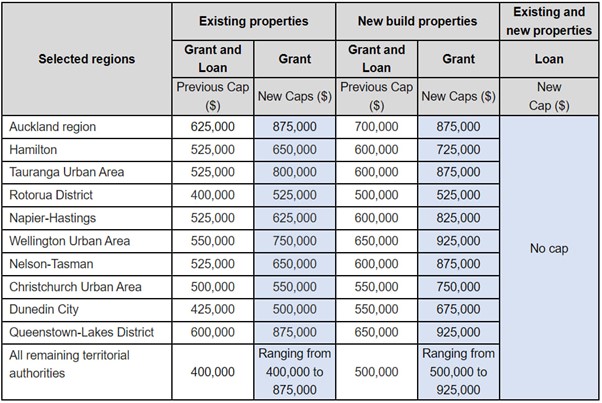 First Home Loans
The Government (through Kainga Ora) provide a guarantee to the banks providing first home loans if the purchaser is requiring 80% lending.  Kainga Ora guarantee the lending over 80%.  Previously First Home buyers were limited with the value of the property that this would apply to.  With the budget the property price caps have been removed.  This allows First Home Buyers to access funds through the banks with a minimum of a 5% deposit regardless of the house value.
Of course, the purchasers must be able to service the debt. 
If more than $5K of maintenance needs to be completed on the property, the lending will not be approved. This is because high LVR (loan to value – eg. Borrowing more than 80% of the property value) lending is a risk for the purchaser.
The Government want to protect the purchasers to make sure that the asset remains a healthy environment and will not degrade quickly as the purchaser adjusts to becoming a homeowner.
While tradies and DIY experts may be able to complete maintenance for less than $5000, this mostly isn't realistic or achievable for new homeowners who are getting their heads around the responsibilities and financial commitments of home ownership – paying for the house insurance, rates and all the extras you are responsible for as a homeowner.
Minister Megan Woods "expects this will help thousands more first home buyers, with funding available for approximately 7000 extra first home grants and 2500 extra first home loans available each year".
Getting people into first homes is important, and any help given is appreciated. The reality is that 7000 grants will take into account a very small percentage of those trying to buy first homes – but great, if it can help some First Home Buyers then we're happy.
As always, we want to hear from you. If you are unsure of whether you can access these First Home Grants and First Home Loans, get in touch. Helping you figure this stuff out is what we are here for.