Hi there!
May has passed quickly and today is the first official day of winter – can you believe that we are now almost halfway through the year? Here in Canterbury the weather has really let us know that winter is on its way. 
Evacuations, flooded properties, bridges out and roads closed, for many this is just one more thing to have to deal with, and the beginning of a long road to recovery.  Get in touch with your insurance company or insurance adviser if you have been affected. It may take some time for the assessors to get to you, so the sooner you start your claim the better.  Contact us if we can help.  Westpac has already indicated relief options for those affected.
These floods are just another curve ball thrown at us and over the last 18 months there have been a few.  Our journey with Covid-19 continues even if it is a somewhat cautious.  So, the question is are you on track for meeting your financial goals this year? If you thought about your financial goals at the beginning of the year, why not revisit and check in. Send us an email to book a meeting if you would like to talk through your situation.
In May we had the budget announcement, the travel bubble opened with Australia and the Cook Islands, and the banks began to roll out new lending policy to match the new government policy for investment properties.  More banks will be reviewing and making changes over the coming months.
Material and labour supply shortages continue, and economic predictions are that unemployment will remain low.  Many businesses are indicating that finding the appropriate skilled labour and materials for their business is the biggest issue that they are facing, and the expectation is that they will continue to experience these problems for the next 12 months.  The government is still limiting working visas as they continue to look to get New Zealanders into work and have been investing in programmes to help many industries provide training to give those that are unemployed more opportunities.  Many economists predict that this lack of skilled labour is going to become a bigger issue as Kiwis look to move to Australia for more favourable economic conditions and better pay.
KiwiSaver
The KiwiSaver review has been completed and it has been announced that the default providers have been changed with ASB, ANZ and AMP being amongst those to lose the privilege of being a default provider.  The newly appointed default providers are Simplicity and Smartshares (NZX), alongside BNZ, Booster, BT Funds (Westpac) and KiwiWealth. These six providers were selected because they offer the best value to members, in terms of higher levels of service and lower fees.
Check out our blog about those changes.
The date for having made your contributions of at least $1,042.86 is the end of this month, make sure that you don't miss the government top-up of $521.43.
If you are unsure of how to check whether you are on track to make that target, get in touch and we will walk you through how to check. Maybe you're not sure if you're in the right scheme for your circumstances, we can also help with that!
Property Market
Property values continue to remain solid, although the level of activity has begun to slow with investors and first home buyers taking a wait and see approach to see what is happening.   Auctions continue to be the main way for properties to be marketed and where there may have been 10-20 people bidding, now we have 3-10.  The key issue is still supply to meet the demand. 
New build consents are still high and the timing for the builds to complete is going to be largely determined by the developers being able to access the appropriate labour and materials. 
According to CoreLogic, housing construction costs went up by 1.3% over the first quarter of 2021. This is the highest rate of construction cost inflation since 2019. The potential for greater cost rises is accentuated when combined with Covid related shipping issues and shortages of various building materials, including structural timber.
Banks and Finance
Since the LVR restrictions were announced to be reintroduced in November 2020 and came back into effect in March 2021, Investors have been shuffling their loans between lenders to maximise the access to their equity.  Now that the LVR restrictions are in place, the 2nd tier lenders that are not using the RBNZ funds are finding themselves super busy supporting investors to purchase properties as they continue to lend at 80%, and the interest rates they are offering are comparable to the 1st tier banks.
Interest rates continue to move with the 1 year rates at many banks continuing to remain at 2.29% or drop even further.  The 4 and 5 year rates are beginning to climb and if you are looking to hold onto your property for the next 5 or more years then consider taking advantage of those long term cheap rates before they go up further.
Email us to make an appointment, or book at the button at the bottom of the page – we are happy to discuss your situation and make a plan with you.
RBNZ
There have been discussions in the media with both the Government and the Reserve Bank about setting restrictions on the debt-to-income service ratios.  The banks already have service ratios that they are working with and while the overall ratio of debt to income has been dropping, the level of household debt continues to increase.  The level of household debt is fine while the interest rates are low – but as the interest rates rise in the coming years this could be a major issue for many.
RBNZ: This data on the chart includes mortgages that New Zealand households have on rental properties, whereas the household debt published in the Household balance sheet (C22) data table does not include mortgages on rental properties. Only the equity that households hold in these rental properties is captured on the balance sheet of the household sector. Data is available from 1998.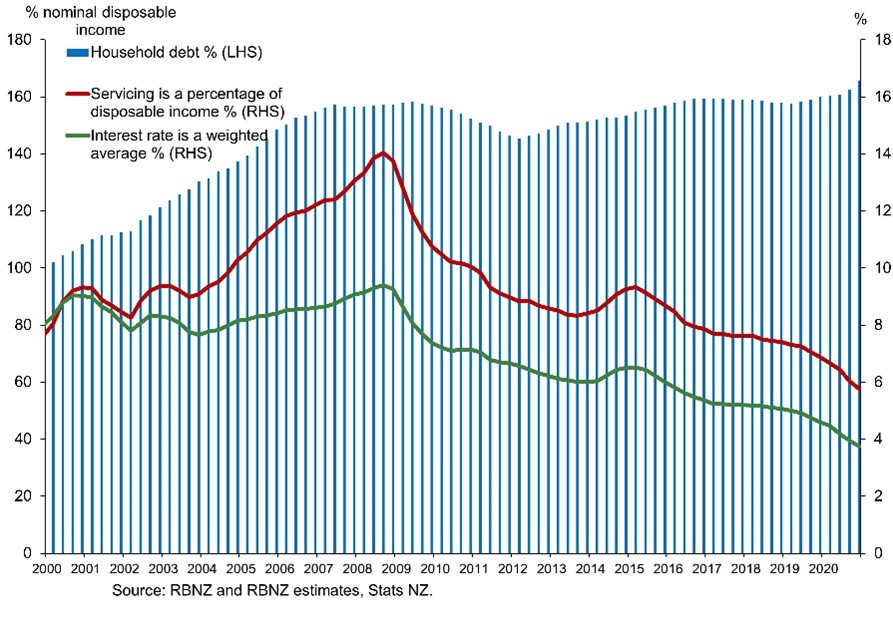 An update from us
We are making great progress with our new systems, and Bron is settling in well.  Elise and Bron will be heading down to Invercargill later this month to continue our work with the Colombian Community down there.  
We look forward to hearing from you if there is anything we can help you with and do keep an eye on our Facebook and blog for useful information and tips.
Until next time,
Elise and the Team